Sorry, I have not been able to update the site due to personal things and college work but I'm back! Here is a roundup of the past week's most noticable stories. Warning, it's a big one...
F1
McLaren, Ferrari and Force India all launch new cars -
See
here
Karthikeyan completes grid -
Indian Narain Karthikeyan has been confirmed as HRT's second driver ending all speculation of whjo would get the last remaining seat on the 2012 grid. The 35 year old, making HRT the oldest driver lineup, raced for HRT in 2011 before being dropped in favour of Red Bull youngster Daniel Ricciardo returning only for his native grand prix in India. It is understood that he is taking substantial finacial backing to the cash strapped Spanish team.
James Key Leaves Sauber
- James Key has dealt Sauber a blow by announcing he is leaving the squad. The British technical director has been part of the Swiss team since 2010 after moving over from Force India. Key has reportedly taken a role in the United Kingdom although it is unknown where.
Van Der Garde gets Caterham role
- Geido Van Der Garde has been confirmed as Caterham's third driver for the upcoming season. The Dutch GP2 race winner has been chasing a race seat for a long time after previous test stints with Super Aguri, Renault and Spyker. The role will give the 26 year old several Friday practice sessions as well as his reserve duties.
Grand Am
Allmendinger hold on to claim Shank's first Daytona 24 hours win
- Michael Shank Racing claimed their first Rolex 24 win after Aj Allmendinger held off the pole sitting Starworks car of Ryan Dalziel in the closing stages. The #60 Riley Ford of Allmendinger, along with Ozz Negri, John Pew and the returning Justin Wilson finished just over 5 seconds ahead of Dalziel, Luhr, McNish, Popow and Potolicchio with another Michael Shank car, that of Jorge Goncalvez, Michael McDowell, Gustavo Yacaman and British F3 champion Felipe Nasr completing the podium. GT honours went to the #44 Porsche of Andy Lally, Richard Lietz, John Potter and Rene Rast.
Touring Cars
WTCC - LADA and Honda return -
LADA will return to the WTCC, entering 2 rounds in 2012 followed by a full season in 2013. James Thompson is so far the only confirmed driver for the Russian manufacturer. Meanwhile, Honda will also make an appearance in the 2012
season with an appearance at the Japanese round before also participating in a full season in 2013. No drivers have been confirmed but the cars will be based on the new European Civic and built by Italian Honda specialists JAS Motorsport with engines from Mugen
.
BTCC - Chevrolet withdraw from series -
A week after lead driver Jason Plato was confirmed to be spearheading MG's new charge, Silverline Chevrolet have announced they will not be returning for the 2012 BTCC season instead choosing to focus on their hugely successful WTCC campaign.
WRC
Eurosport talks break down -
Discussions between the FIA and Eurosport regarding promotion or the WRC and TV rights have broken down leaving the world's premier rallying series without a promoter or permanent broadcaster. Rallies will now be responsible for arranging TV coverage for their own event. Stage 1 Technology will still provide timing and tracking systems for next week's Rally Sweden although it is unconfirmed if they will for any more events.
BMW set to terminate contract with Prodrive -
BMW are set to end the partnership with Prodrive regarding the MINI WRC program after unresolable differences regarding how the program is funded. There has been no official announcement as of yet although one is expected in the coming days despite the cars already being on their way to Sweden for round 2 of the WRC. Kris Meeke has already been dropped due to funding issues for the team with his seat being occupied by pay drivers. It is unknown whether the program will be taken in house by BMW motorsport, given to another firm or be stopped altogether.
WEC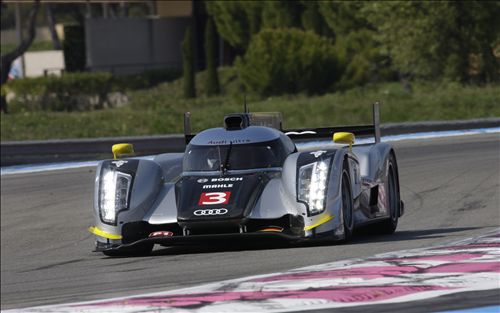 Entry list for 2012 24 Hours of Le Mans revealed -
4 Audi R18 entries head this year's 24 Hours of Le Mans entry list. 2 turbo diesel and 2 diesel/electric hybrids. DTM star Oliver Jarvis has been confirmed for one of Audis Diesel entrants. He has previous expereince at Le Mans after racing an Audi R10 for Kolles in 2010. Toyota have also had a second car confirmed with Hiroaki Ishiura of Super GT the first confirmed driver. Dome will also return in partneship with the Pescarolo team with Nicolas Minassian the first confirmed driver. The unique Delta Wing concept also confirmed their first driver, Scott Marino Franchitti.
Indy Car
Sato signs for Rahal Letterman Lanigan Racing -
Former Formula One driver Takuma Sato has been confirmed to lead Rahal Letterman Lanigan's return to full time Indy Car competition. Despite running cars in the Indy 500 the past few years, this will be the first full season campaingn since since running Ryan Hunter-Reay in 2008. a second car is hoped to be confirmed soon.
V8 Supercars
Premat makes shock switch -
Former Audi DTM Star Alexandre Premat has been confirmed at Rogers Motorsport in the V8 Supercars series in Australia. After being a race winner in F3, A1 GP, GP2 and the Le Mans Series, the Frenchman was fired from Audi's DTM roster after runniong the New York marathon despite Audi insisting he rested after a huge crash. Premat will be unveiled along with his new Holden Commodore next week.