F1
Kimi Raikkonen's Renault test continues -
Kimi Raikkonen returned to the track in Valencia today for another day behind the wheel of a 2010 spec Renault R30 Chassis. Today the focus was on longer fuel runs to help him to adjust to life without re-fueling. Camber changes and starts were also worked on.
Seat fittings -
Nico Rosberg of Mercedes AMG and Ferrari's Fernando Alonso and Felipe Massa all had seat fittings today in preperation for the new season. Alonso and Massa also spent time with their engineers before heading of to an intense training camp in the Canary Isles along with test and development drivers Jules Bianchi and Davide Rigon.
Image Credit - Crash.net
D'Ambrosio takes 3rd driver role at Lotus -
Returning to his previous role with the team once known as Renault, Jerome D'Ambrosio was today confirmed as Lotus' 3rd driver. He will be attending all grand prix and will be ready to stand in for race drivers Kimi Raikkonen ad Romain Grosjean if needed. It is unknown if he will have any Friday outings at all.
Marussia to skip first test -
Despite confirming that they would be at the first pre season test in Jerez with their 2011 car to give newcommer Charles Pic valuable seat time, Marussia have now confirmed they will skip the first test completley to focus on their 2012 car. Marussia will now run their 2011 car, The MV-02, at the second test, before finally introducing the new car at the final test on the 1st of March.
NASCAR/Indy Car
Image credit - SPEED TV
Danica Patrick to skip 2012 Indy 500 -
Danica Patrick will miss this years Indy 500 in order to focus on the Coca Cola 600 NASCAR Sprint Cup race which takes place on the same day in Charlotte, NC. Despite showing strong desire to take part in America's premier single seater event, she has ruled it out for 2012. However, she has not ruled out competing in it alongside the the NASCAR event in future seasons. "I hope to do it in the future. Maybe it'll be a double" The Wisconsin native told reporters.
Le Mans
Toyota expands LMP1 program -
Toyota announced today they will be expanding their new LMP1 sports car program from one car to two. Driving one of the Petrol/electric Toyota TS030s are former F1 drivers Alexander Wurz and Kazuki Nakajima with 2005/06 A1GP champion Nicolas Lapierre. No drivers have been confirmed for the second car but Formula Nippon racer Hiroaki Ishiura has tested the new coupe and Toro Rosso F1 refugee Sebastien Buemi has shown an interest in an LMP program for 2012.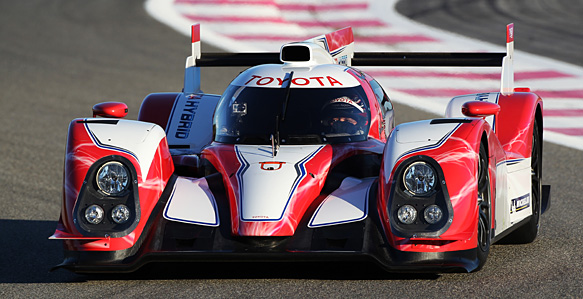 Image Credit - Autosport
21 year old Italian Andrea Caldarelli has joined the team as Young driver. He will attend all races and do simulator work to get him used to endurance racing having come from a single seater background in GP3 and Formula Nippon amongst others.