Gilles Villeneuve
When people think of the greatest driver in Formula One, three names constantly come up - Michael Schumacher, Juan Manuel Fangio, and Ayrton Senna. However, there could easily be a fourth man on that list, that man - Gilles Villeneve.
Gilles Villeneuve was born in Quebec on the 18th January 1950. Car mad from an early age, Villeneuve made a name for himself racing in Canada and America before getting his big Formula One break in 1977 for McLaren after he impressed James Hunt the year before.
Villeneuve's first start was for McLaren
Villeneve's stint at McLaren is easily forgotten, and understandably - It only lasted one race - he is mostly remembered for his time at Ferrari. The Canadian moved to Ferrari at the end of the 1977 season, completing the last two round of the season for the Italian outfit. He was to remain in Maranello for the rest of his career.
Regarded as the fastest driver in the history of Formula One, Villeneuve was also seen to be relentless and even dangerous at times. A key point in his career that demonstrates these qualities is whilst leading the 1979 Dutch Grand Prix he suffered a puncture, yet powered back to the pits at break neck speed, resulting in more damage to the rear of the car. He kept going until the whole car was beyond repair yet even then, he insisted that a new wheel be fitted and he be sent on his way.
Pushing the limit as always
So how can he be considered a great when he's mad enough to put his own, and others lives at risk by plodding on with a destroyed car? That's simple, he had an uncanny ability to make cars do things they really shouldn't.
On his debut in 1977, his team mate was experienced race winner Jochen Mass. Whilst Villeneuve drove an older spec car, Mass had the latest machine at his disposal. That didn't matter. Despite never starting a Grand Prix, Villeneuve out qualified Mass, placing just ahead of him in 9th place. Despite damage to his car, he still finished a respectable 11th place and set the fifth fastest lap time.
At Ferrari, he was able to keep up with far superior Lotuses, make up a half minute deficit to his team mate in only 33 laps and then there was his wet weather skill. At the 1979 US Grand Prix East, he was 10 seconds faster than his team mate, eventual world championship winner Jody Sheckter. A year later in Monaco, despite using slicks, he was five seconds quicker that the rest of the field.

Villeneuve's final win at Jarama in 1981
The 1980s were the start of a tough period for Ferrari, a time that would eventually see the team waiting 21 years for their next World Champion. That didn't seem to matter for Villeneuve however. His final 2 wins, both in the 1981 season came behind the wheel of a car with an immensely powerful engine mated to a dog of a chassis. Villeneuve even called it a 'big red Cadillac', hardly kind words to be said about a racing car. Even so, at Monaco he outpaced his rapid team mate Didier Pironi by 2.5 seconds and then pushed hard in the race to capitalise on the misfortune of the much faster cars ahead to take the win. The following round in Spain he held off faster runners for 50 laps to take his final win. Some say it was his finest win, but ask anyone who knows anything about F1, it wasn't his finest drive.
The legendary battle with Arnoux
That came at the 1979 French Grand Prix where he duelled with the Renault of Rene Arnoux in what is widely regarded as the greatest on track battle in the history of Formula One. It what was a defining moment in the Canadian's career, the pair banged wheels numerous times, swapped positions over and over with Villenueve eventually coming out on top, finishing in second place. Arnoux's Renault team mate Jean-Pierre Jabouille had run away with the race victory. Villeneuve himself called that race his 'best memory of Grand Prix racing'. It once again highlighted his relentless attitude, aggressive style, and ability to get as much out of his car as possible. Jody Sheckter in the other Ferrari could only manage seventh place, finishing a lap down.
His style is why many remember him. He was spectacular and unique. But could his approach have been the thing that led to his tragic demise?
Pironi (L) passed Villeneuve
At the 1982 San Marino Grand Prix, the two Ferraris of Gilles Villeneve and Didier Pironi were running first and second after the retirements of both Renault cars. Ferrari ordered both Villeneuve and Pironi to slow down in order to conserve fuel and tyres. Interpreted by Villeneuve as a call to hold position, he slowed down expecting to claim his seventh career victory. Pironi though, went and passed Villeneuve. Villeneuve re-took the position and again slowed before Pironi took the lead once more on the final lap, going on to claim the win. After the race, Villeneuve didn't hide his displeasure, stating 'he robbed me of a win'. Pironi meanwhile maintained his innocence. The pair never spoke again.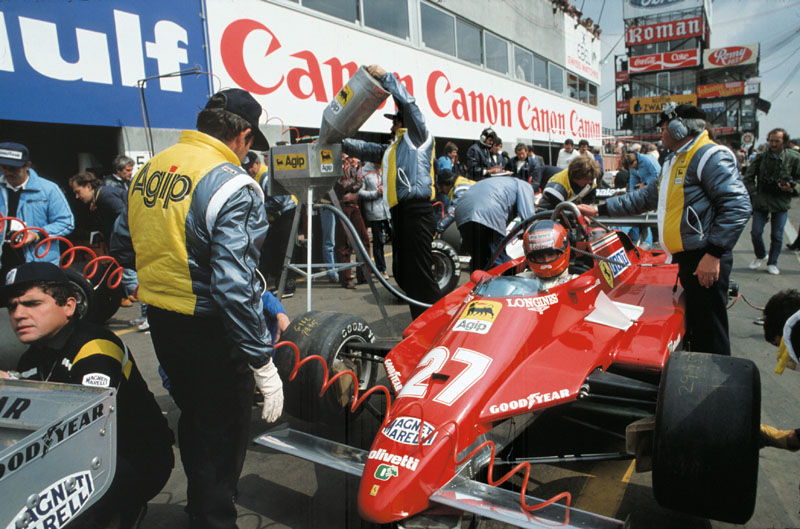 Villeneuve at Zolder
The next round was the Belgian Grand Prix at Zolder. In qualifying Pironi was 0.1 seconds faster than Villeneuve. With San Marino still fresh in Villeneuve's mind, he did what he was famous for, he pushed. Hard. Eight minutes were left of the session and Villeneuve was on his last set of tyres. Whilst Ferrari race engineer Mauro Forghieri insists Villeneuve was on his way to the pits, many believe he was in fact aiming to beat Pironi specifically. Regardless, Villeneuve was, as ever, driving on the limit.
Approaching a much slower Jochen Mass, Villeneuve's Ferrari smashed into the back of Mass' March, launching it into the air. The Ferrari crumbled and Villeneuve was thrown 50 meters from the car, still strapped to his seat but minus his crash helmet, into the catch fencing at 'Terlamenbocht'. Gilles Villeneuve died later that evening of a fatal neck fracture.
Jacques Villeneuve took the title in 1997
Villeneuve's career ended prematurely with only six wins to his credit. Although the Villeneve name did end up on the World Driver's Championship trophy, it was his son Jacques who triumphed 15 years later. There will forever be unanswered questions of 'what if?'. One thing is certain though, Formula One History would have looked very different had he survived.
Calling a driver the greatest ever is always a difficult claim. There's different eras to compare something that is near impossible. There's no doubt though that Gilles Villeneuve was something special. A man who's talent could be rivalled by very few.
Images have been taken from various sources across the internet. No copyright infringement is intended and any images can be imediatley removed upon request