It's the 10 September 2006, and Robert Kubica has just become the first Polish driver to lead a Grand Prix as well as the first Pole to finish on the podium. A remarkable achievement considering it was only his third race start.
Kubica, from Krakow in Poland, was drafted into the BMW Sauber team as a replacement for Jacques Villeneuve after the 1997 world champion parted with the German-Swiss outfit. Kubica had been working as test and reserve driver for the first part of the season making him the ideal candidate to take over the vacant race seat. An impressive debut part-season led to his retention for 2007, a season where Kubica was to constantly finish in points scoring positions resulting in a sixth place finish in the championship.
However, 2007 wasn't all perfect. In Canada, Kubica suffered a huge crash. His BMW Saber car took off, rolled several times, being completley destroyed in the event. His feet were even sticking out of what was left of the car when it finally settled. The smash resulted in Kubica missing the next race, the United States Grand Prix, through injury. He was replaced by a certain young German called Sebastien Vettel.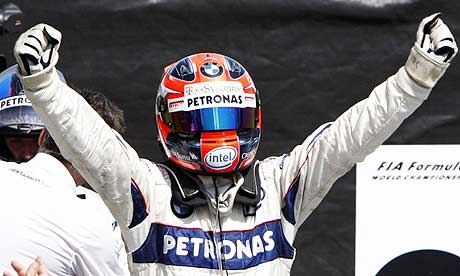 The frightening impact left no lasting damage and Robert Kubica quickly recovered. 2008 was to be the best year of his career with his first pole and win. The win comiong at the site of his crash the previous year. He went on to finish fourth in that years championship after contending for top honours in the first half of the season. BMW Sauber arguably cost him the championship by chosing to switch focus to their 2009 car instead of continuing to develop the 2008 chassis.
That gamble didn't pay off. Despite running in third in Australia and achieving a second place in Brazil, BMW Sauber's season was a stark contrast to their 2008 successes. Subsequently, BMW pulled out of F1 at the end of the season due to tough economic conditions and the poor run of form in '09. Moving to the Genii owned Renault team for 2010, many expected Kubica to once again challenge for wins.
With 3 podiums and an eigth place championship position, Kubica had a strong year in 2010. A perfect stepping stone to success with the Enstone squad continuing to improve into 2011 and 2012. However, such success was to never be realised.
On the 6 February 2011, Robert Kubica opted to participate in the Ronde di Andora rally in Italy in an S2000 spec Skoda Fabia rally car. Just days earlier, testing his team's 2012 F1 challenger, he topped the testing times in Valencia, the rally coming between pre-season tests. The first test of 2011 was to be his last as less than a week later, Kubica was left fighting for his life.
It was only the first stage of the rally when Kubica left the road at high speed, smashing into a crash barrier. The barrier pierced through the centre of the car severely injuring the driver. The co-driver on the otherhand escaped serious injury. After being trapped in the car and later undergoing seven hours of surgery in a Genoa hospital, it was revealed that Kubica had fractures to his right arm, leg, wrist and had infact partially severed his arm. The long surgery ensured that initial fears that he would infact loose his hand would never materialise. However, Polands F1 superstar was in for a long recovery.
It wasn't until April, 10 weeks later, when Kubica would leave hospital after undergoing numerous operations totalling 24 hours, a stint in intesive care and beginning a course of physiothrapy. The movement in his arm was severly limited and his full recovery time impossible to predict.
Staying out of the public eye, Robert Kubica rested at his home in Monaco before begining extensive physiotherapy. His recovery was slow but he stayed in touch with people in F1, recieving race reports and information frequently. Kubica admitted that a full recovery was a long way off, but never ruled out returning behind the wheel.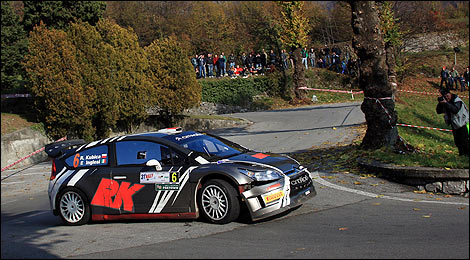 The long, hard recovery was to be dealt a big blow in early 2012 as Kubica slipped and fell on ice in Italy, once again breaking his right leg. The leg break though was not a collossal setback though as he went on to test rally cars and compete in Rally events in the latter part of 2012. Competing in the Ronde Gomitolo Di Lana rally in Italy in a Subaru Impreza. He won the event, finishing one minute ahead of the second placed driver. He crashed out of his next event, the San Martino di Castrozza but won again on his third rally in the Impreza, the Bassano Rally. A switch to a Citroen C4 WRC yielded further success with wins on the Trofeo Aci Como and dominating the Rally du Car before hitting a tree, causing the car to catch fire. The incident destroyed the car and ended the rally for him. Reports of further surgery in December 2012 surfaced, with it said to aid movement in his wrist further.
In 2013, 2 years after his life threatening accident, Robert Kubica undertook his first tests in racing cars. The first time he'd been behind the wheel of a racing car since topping the times of the final day of 2011's first pre-season F1 test. He tested a Renault Megane Trophy car in Italy, completing 95 laps with no ill effects or tiredness afterwards. Next up came a DTM test for Marcedes at Valencia's
Ricardo Tormo Circuit, coincidentally the site of his final F1 test. He completed 114 laps (approximatley 450 kilometres) and again reported that he felt very comfortable afterwards. No times were released although there were unconfirmed reports that his times in the wet were 0.5 seconds faster that DTM regular Gary Paffett.
Robert Kubica is now expected to mount a challenge in the European Rally Championship (ERC) although his plans have not been confirmed as of yet. Kubica still wants to return to F1, however, the limitations of an F1 cockpit mean he would struggle due to the limited movement in his wrist. It is unlikely Kubica will ever return to F1. However, his recovery is far from over and we could see the Pole back in F1 one day. Who knows...